Medical Doctor
Scholarly Reflection and Concentration Capstone Course
The Scholarly Reflection and Concentration/Capstone course allows you to personalize your curriculum and prepares you for scholarly endeavors during residency and future practice. You will self-design and execute a capstone project in an area you are passionate about over the course of four years.
Course Overview
During the first two years of the MD program, the curriculum is organized around three integrated courses that provide students with a comprehensive view of evidence-based medicine:
Foundations of Medicine (18 hours/week)
Scholarly Reflection and Concentration/Capstone course (4 hours/week)
Clinical Arts and Sciences (6 hours/week)
Scholarly Reflection and Concentration/Capstone (SRCC) is a four-year course that allows students to personalize their curriculum. Students use narrative medicine and mentoring to develop personally and professionally. They gain both conceptual understanding and practical skills in research methods, epidemiology, medical informatics and biostatistics to comprehend and critique medical literature. This enables students to create and execute an individual capstone project.
In self-designing their capstone curriculum, students pursue a scholarly interest through a longitudinal, mentored project. They create their own learning objectives, manage a budget, execute a scholarly project under the guidance of a mentor and reflect on the journey to develop professionally. This gives students valuable hands-on experience that helps to prepare them for success in residency and provides a foundation for building a career as a physician.

Students may develop capstone projects in any of the following concentrations:
Basic, Translational and Clinical Science Research
Global, Public and Community Health
Health Communications
Health Policy and Advocacy
Healthcare Management and Organizational Leadership
Interprofessional Education and Practice
Medical Education
Medical Humanities
Self-Designed
Curriculum
Concentration/Capstone

Choose a concentration
Develop a project proposal
Selective coursework in area of concentration
Concentration-specific curricula

Research Methodology

Biostatistics
Responsible research practice
Journal club
Medical informatics

Narrative Medicine
Mentoring

Identify a capstone mentor
Narrative Medicine
Concentration-Specific Curricula
Capstone Project
Medical Informatics
Selective Coursework in Area of Concentration
Narrative Medicine
Concentration-Specific Curricula
Capstone Project
Complete Capstone Project
Present at Capstone Scholars Day
Selective Courses
As part of their capstone experience, students select the equivalent of 6 graduate credits of course work in their concentration. In addition to selectives offered by the School of Medicine, individuals can gain interprofessional experience by taking selectives alongside graduate students in the Schools of Business, Communications, Education, Health Sciences, Law, Nursing and the College of Arts and Sciences.
Capstone Projects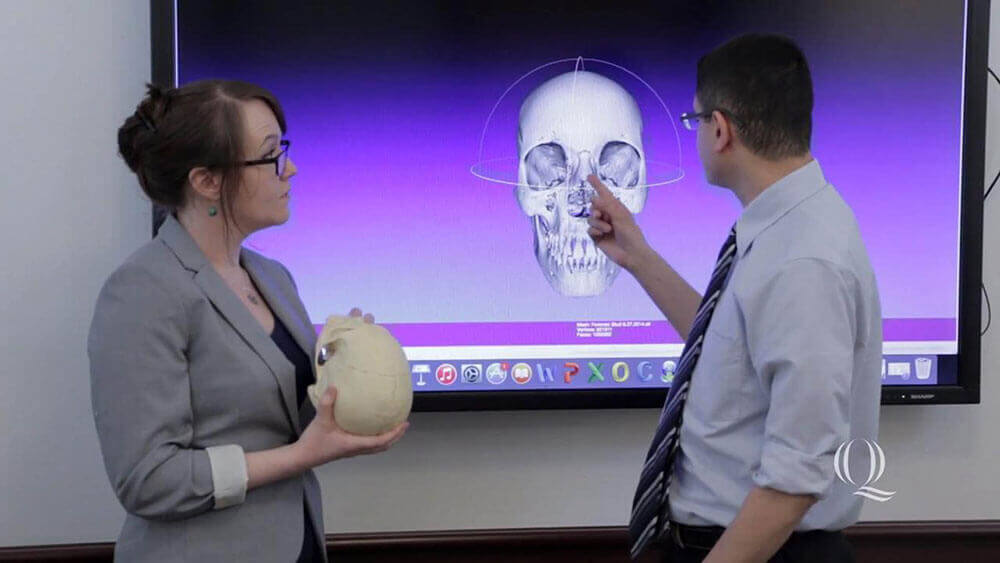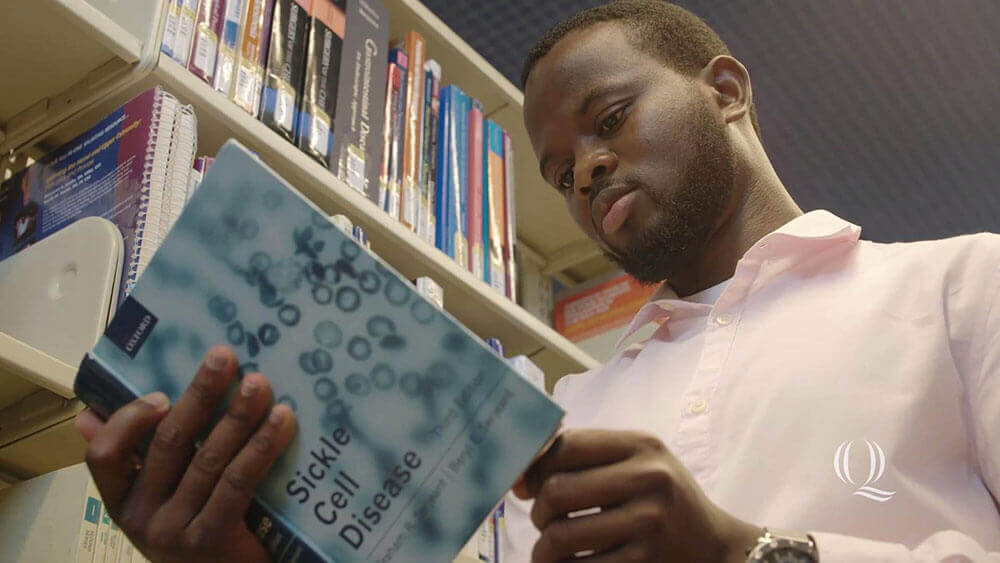 Students in our recent graduating class completed capstone projects with other schools at Quinnipiac, as well as with external organizations:
Child Health and Development Institute, Inc.
Community Health Center, Inc.
Connecticut Children's Medical Center
Hartford Hospital
HeadZone Concussion Care
The Hole in the Wall Gang Camp
Masonicare
MidState Medical Center
ProHealth Physicians
St. Vincent's Medical Center
Waterbury Hospital
Yale University
Summer Research Fellowship
The Frank H. Netter MD School of Medicine encourages scholarship in all of its forms. Our Summer Research Fellowship provides students with the opportunity to engage in meaningful scholarly activity in the summer between years one and two. Students work with a mentor, develop a proposal for an eight-week experience, and if selected, receive a stipend for living expenses. At the conclusion, students present their work to the Netter community at a Summer Research Poster Day.
Recent summer research sites include:
Child Health and Development Institute, Inc.
Community Health Center, Inc.
Connecticut Children's Medical Center
Johns Hopkins University
National Institutes of Health
New England Institute for Clinical Research
New England Institute for Neurology and Headache
Partnership for Strong Communities
St. Vincent's Medical Center
State of Connecticut Office of the Chief Medical Examiner
Yale Child Study Center
Yale New Haven Hospital
Zuckerberg San Francisco General Hospital and Trauma Center
Clinical Toxicology Service of Tirana University Hospital, Albania
International HIV/AIDS Alliance in Ukraine
Free Medical Centre, Babuji Memorial Ashram, Chennai, India
Laikipia County, Kenya
St. Peters Hospital, Likoma Island, Malawi
Sindhupalchok and Kathmandu, Nepal
Good Samaritan Hospital, Batey communities, Dominican Republic
Course Leadership
Assistant Professor of Medical Sciences
Course Director, Schol Reflection Concentration Capstone
Medicine
Contact Admissions
Our admissions counselors in the School of Medicine are here to answer any questions you may have and help you navigate the application process.
Connect With Us